As many organisations focus on mitigating risk and ensuring business continuity post COVID-19, it has become apparent to us that some are less focused on the impact of Brexit. Most importantly, the changes to how UK businesses will transact business with the public sector.
On this basis, we thought we'd offer a jargon-free overview of what will change as the Brexit transition period comes to an end.
If a public sector organisation has a need for goods or services over a certain contract value (see table below), they are obliged to publish their requirements on a public platform to invite businesses to bid for the contract. We refer to this as an ITT or 'Invitation to Tender'.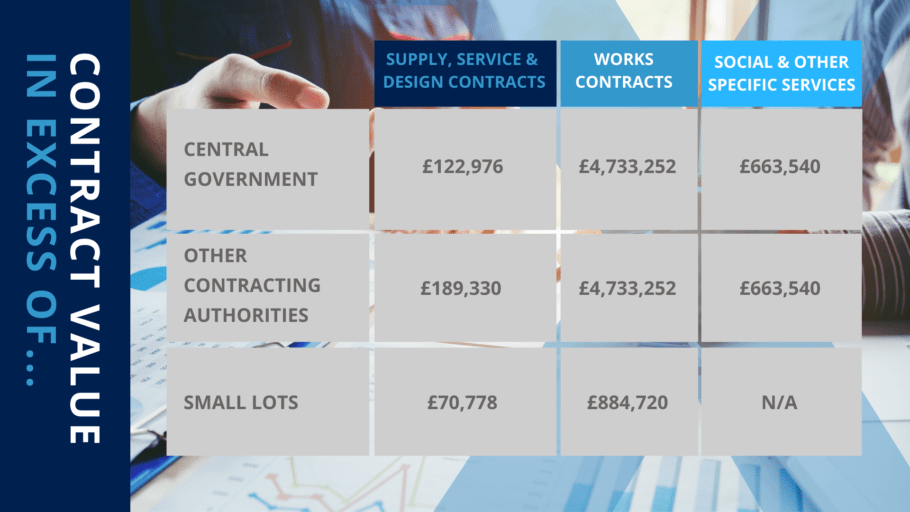 This practice of making new contracts public, ensures that the procurement process is fair, encouraging competition from all businesses who meet the criteria and may wish to bid for the contract, and ultimately ensuring best value for money for the public purse.
This is particularly important in the public sector for two reasons:
It relies heavily on public funding and there is an expectation, and indeed a responsibility, that any spend is fair, transparent and ethical.
It is required to be unbiased and to support businesses of all sizes. In fact there is a considerable focus on inclusion as the new processes are rolled out.
The process enables a wider set of businesses to bid for the contract. Indeed, more recently we are seeing an increase in contracts being awarded to SMEs, as opposed to fewer, larger, organisations taking the majority of these larger contracts. This shift is needed to ensure fair and ethical procurement in the UK.
As it stands, all contracting authorities across the EU must publish their contracts to the Official Journal of the European Union's Tenders Electronic Daily (OJEU/TED), or Contracts Finder. As members of the EU, this would have included the UK.
How is this set to change the way public procurement is managed?
As the transition period for Brexit comes to a close at the end of 2020, the UK will no longer publish new notices to the EU's OJEU/TED.
Instead, as the cabinet office's Procurement Policy Note (PPN 08/20) reminds us, at 11pm on 31st December 2020, the new UK e-notification service – "Find a Tender" – will go live.
But what does this mean for UK businesses?
Well firstly, the content, format and timeline are largely the same; as are the thresholds at which contracting organisations are required to publish contracts.
Any procurement released before the eve of 31st December 2020, will still be published to OJEU/TED, or Contracts Finder and any subsequent notices related to that tender will continue to be published there – though it is suggested that you also publish it to Find a Tender should it be active after that date.
These changes do not alter the need to publish contracts on specialist platforms such as Contracts Finder or those required by the MOD, for example.
Businesses that wish to bid for opportunities in the EU may still do so via OJEU/TED however they will be treated the same as existing countries outside of the EU which may put them at a disadvantage for some public contracts.
The key point is that we will no longer be publishing to OJEU in 2021 in the UK and that all new public procurements must be published to Find a Tender.


Are there any benefits to the new public procurement system?
The system is free to use, and any notices are published instantly. This may overcome some of the issues with delays, previously experienced with OJEU.
There is also an argument that there will be greater clarity regarding deadlines due to the way contracts are published. This will become clearer as more contracts are published.
How can you find out more about public procurement?
There is lots of helpful information on the government's website about how these changes will affect both contracting authorities and businesses across the UK.
If you are looking to run a tender process early in 2021 or you need advice on how to ensure you are following the correct processes, you can book a free appointment with one of our procurement consultants below.
We will continue to review the changes and how they impact the process of running tenders within the public sector and publish periodic updates to assist our clients into 2021.
Book an appointment now.